3 Spa Treatments All Clients Will Love | Valentine's Day Facials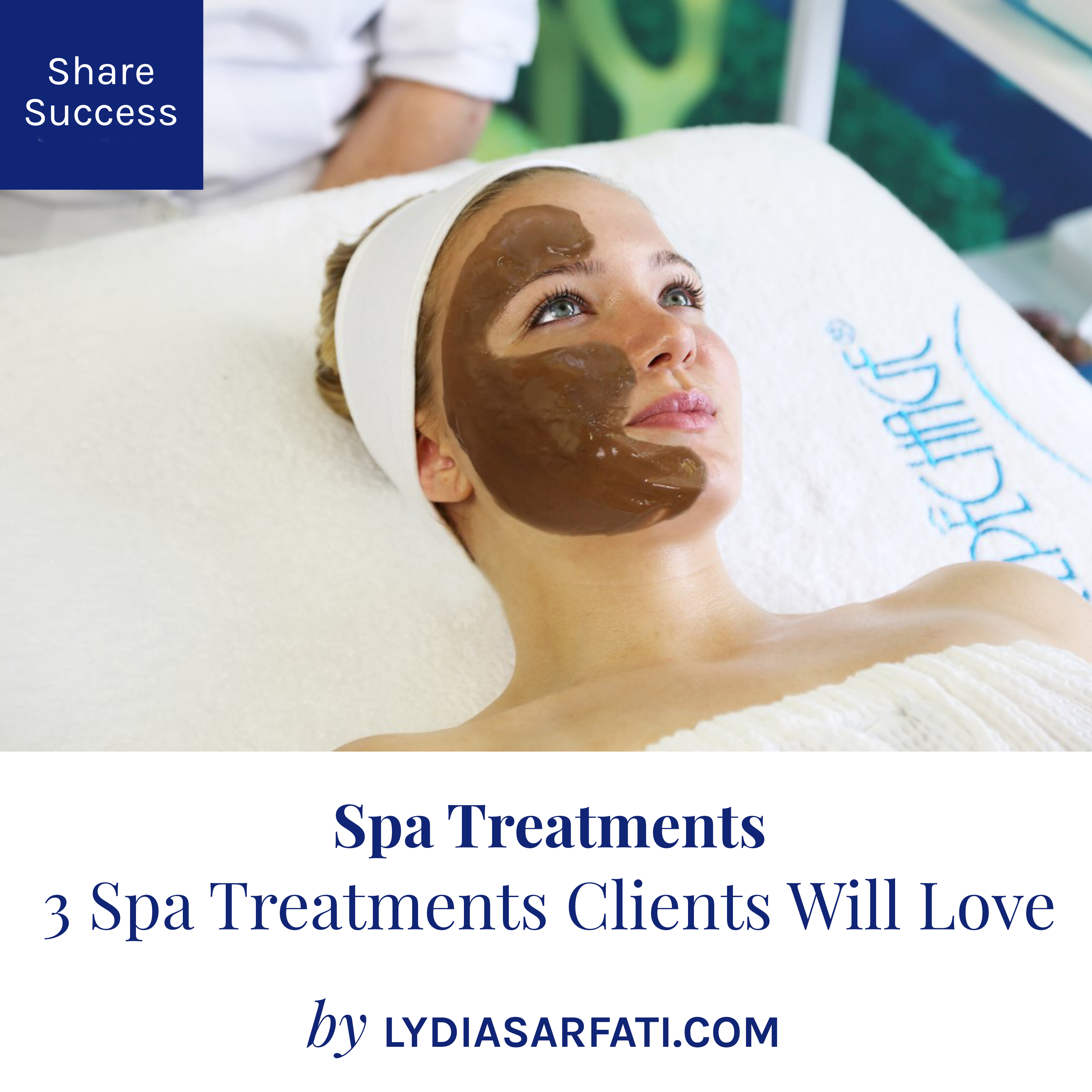 February is the time to show your client's some love! From millennials to clients with mature skin, I want to share some of the best seaweed-based treatments combined with other natural ingredients to highlight as your Valentine's Day facials that are guaranteed to be loved by all! Read below to find out what's to love and who will love them.
Who will love this facial:
Clients from ages 8 to 80 who are chocolate lovers or are looking for a fresh, natural, moisturizing facial treatment.
What they will love:
Made with aromatic Organic Cocoa and Laminaria Digitata Seaweed, along with other natural botanicals, skin feels deliciously soft and smooth after each treatment. You will want to eat it.
How it works:
Clients will love the wonderful aroma from the organic cocoa and the physical and emotional benefits of sensory stimulation from light facial massage and a calming, moisturizing mask. This facial can also be upgraded with Honey and Almond Scrub to create a delicious, exfoliating treatment.
Protocol:
Secure client's hair and dispense contents of FUSION™ Cleansing Cream packette (1) into your palm. Warm between both hands and apply to client's face and neck using circular motions.
 Thoroughly remove cleanser with cotton saturated in lukewarm water and pat dry with tissues.
 Empty contents of FUSION™ Soothing Massage Cream packette (2) into your palm and warm between both hands. Massage client's face for ten minutes.
 Empty the contents of the FUSION™ Seaweed Aloe Powder packette (3a) and the selected FUSION™ Chocofina Flavor Actives packette (3c) into a Repêchage® Rubber Mixing Bowl and mix together thoroughly. Add the contents of the FUSION™ Laminaria Complex Gel packette (3b) and continue to blend until a smooth paste is formed. Apply the mask to the entire face.
 Apply Repêchage® Eye Rescue Pads to the eye area. Let mask set for 10 minutes while the client relaxes (optional) At this time, provide a hand massage.
 Remove mask by gently lifting off the face, first loosening around the edges, then carefully rolling the mask upwards from the chin line.
 Clean face of any mask residue with moistened cotton.
 Empty contents of FUSION™ Face Moisturizer packette (4) into the palm of your hands and apply to the client's face, performing light effleurage movements until cream is absorbed. Finish at temples, gently holding for a few moments then releasing.

*Named the best facial of the century by Cosmopolitan U.K.
Who will love this facial:
All will love this facial, especially those looking for a facial to help tone, deep cleanse and firm the appearance of the skin.
What's to love:
This facial has stood the test of time, and is the original Seaweed facial, developed in 1980. In fact, Cosmopolitan UK has called this facial the "best facial of the century."
How it works:
It's unique concept of providing multiple layers of fresh European seaweed, including a cooling seaweed mask followed by a thermal mineral mask, are what makes it the ultimate spa facial experience, anytime.
Protocol
Sanitize hands with Clean Hands. Secure client's hair with a hair band or towel. Analyze skin type. Squeeze a small amount of Repêchage® Opti-Cleanse onto a cotton square and remove eye makeup.
Cleanse skin with enclosed Repêchage® Gentle Face Cleanser unidose packette. Remove cleanser with damp cotton squares. Follow up with appropriate toner.
Layer 1: C-Serum Seaweed Filtrate. Good for all skin types, this facial serum helps reduce the appearance of fine lines and improves overall skin texture. When the skin is well hydrated it becomes more translucent. Repêchage® C-Serum contains 12 vitamins, 18 amino acids and 42 trace elements and minerals derived from seaweed.
Apply Repêchage® C-Serum® to face, throat and décolletage and massage using effleurage, petrissage and tapotement movements until absorbed by the skin (approximately 5 minutes).
Layer 2: Hydrating Cream. This step will help to reduce the appearance of fine lines and wrinkles. Apply Repêchage® Hydrating Cream to the face using upward and outward motions and downward strokes on throat and décolletage. Perform the complete massage as demonstrated on the Repêchage® Four-Layer Facial® Instructional DVD including back of neck, trapezoids and décolletage. Do not remove excess Hydrating Cream.
Layer 3: The Seaweed Treatment Mask. This is a cooling and soothing multi-vitamin mask that helps hydrate while improving the appearance of skin tone and clarity. Combine the Repêchage® Seaweed Mask Powder (3A), and Gel (3B) in a rubber bowl and stir with enclosed spatula until it becomes smooth. Using the spatula, apply the mask to the face in upward and outward motions – and to the throat in downward strokes. The Seaweed Treatment Mask delivers freshly mixed seaweed to help skin appear more toned and firm. Apply facial tissues along the edges of the seaweed mask, framing the client's face. Apply Repêchage® Eye Rescue Pads over closed eyes. Wait 5-7 minutes, but do not remove mask.
Layer 4: The Mineral Mask. With calcium and magnesium, this layer creates a thermal effect and helps to visibly improve the appearance of facial contour and firmness. Combine the Mineral Mask Powder (4A) and Mineral Gel (4B) in a rubber bowl and stir with a spatula for 1 minute or until it becomes smooth. Using upward and outward motions, apply the mask over the Seaweed Mask, carefully following the client's facial contours. Apply to the FACE ONLY, stopping at the jawbone. The Mineral Mask should never be applied to the neck. Always remove excess mask from the spatula by wiping it against the side of the bowl. You may upgrade this facial with the Biolight™ Luminex Mask or express treatment.
 Who will love this facial:
Those looking for an express treatment to help brighten skin's appearance and reduce uneven skin tone.
What's to love:
Not only can this mask be used as an express treatment, add-on to other services, or part of the Repechage Peel and Glow Facial, but it's cream peel base make it perfect for those with sensitives. While glycolic peels have typically been used in the past to help brighten skin's appearance, they can be irritating to sensitive skin types.
How it works:
This express facial peel in a cream base combines deep cleansing Kaolin Clay, moisturizing Laminaria Digitata and Ascophyllum Nodosum (seaweed) and ingredients to help brighten the skin's appearance, including Glycolic Acid, Licorice Root extract, Willow Bark extract, and Pelvetia Canaliculata (seaweed).
Protocol
Cleanse the skin with BIOLIGHT™ Brightening Cleanser.
Apply mask with spatula or brush to entire face, avoiding eye area. Leave on for 15 minutes.
After 15 minutes, apply moistened, unfolded cotton squares to the face to help dissolve and remove the mask easily. Wipe mask off from side to side.
Remove remaining mask using cotton or facial sponges dampened with warm water.
Follow with BIOLIGHT™ Brightening Toner to balance the skin. Apply BIOLIGHT™ Skin Correct Serum, and finish with BIOLIGHT™ Brightening Daytime Protection Cream.
Which facials will you use to show your client's skin some love this Valentine's Day and all February long? Comment below!*
For more visit pro.repechage.com or call 1-800-248-SKIN
*This blog is for informational purposes only and is not intended as medical advice, treatment or diagnosis. Always seek the advice of your doctor or health provider with any questions or concerns you may have about a medical condition.