2011 Beauty and Spa Forecast
Looking forward to a great year in skincare, here are the biggest trends in skincare and spas this year!
Skincare treatments for all: Convenience is key. The number one change I think we will see is making facial treatments accessible to all by allowing shorter treatments that can literally happen over a lunch hour; getting a manicure, pedicure and facial all at the same time-my new spa furniture collection makes this easy and accessible. While it is nice to relax in the back room for a full facial when you have time, in 2011, more possibilities like my Facial Bar concept to be sure all clients are seeing results-oriented treatments in short amounts of time. Let your spa experience multitask. If you're in for an express facial treatment, ask to add-on a hand massage. Who says you can't have it all in a reasonable amount of time?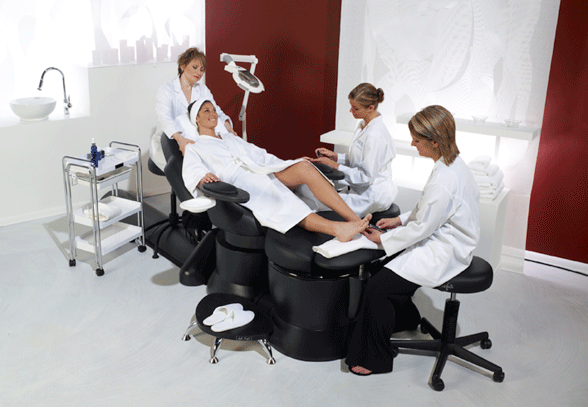 Sensory Experience: Just because you're in a rush, doesn't mean you have to lose out on the experience. In fact, the power of touch is the most important factor, especially in our overworked society, in creating a memorable service. The sensory experience from lighting to music to food to décor will all add to creating a remarkable sensory experience.
More Bang for the Buck: While the salons and spas down the street may be jumping on the discount bandwagon, how about offering clients service they will pay top dollar for? Everyone enjoys that "10% off" feeling, but most time that results in a one-time visit. The 2011 client wants the best service and will pay for it. Though the industry has taken a hit, one thing clients aren't willing to sacrifice is service. Equip your spa with a knowledgeable front desk staff willing to accommodate your guests by offering a beverage, offering to hang their coat and an introduction to their esthetician including a complimentary skin consultation upon first visit- the client will be more likely to come back! Of course, your estheticians are extremely well trained, so this positive experience will be followed up with an exceptional service, but remember the first seven seconds count!
What has been successful for your salon or spa in 2010? Any practices you will be continuing into 2011? Any you will be leaving behind? Let us know!